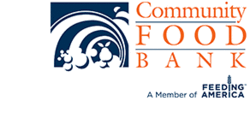 Central Valley SDA Church is a partner with Community Food Bank
Community Food Bank serves Fresno, Madera, and Kings counties. These agencies are food pantries, residential shelters, community kitchens, adult and child day care centers, and so much more! Community Food Bank is involved in the solicitation, acquisition, warehousing and distribution of the food that these agencies acquire and serve to those in need. Community Food Bank began in May of 1992, with the name Food Opportunities Organization and Distribution, Inc. (or FOOD, Inc.) through the efforts of a steering committee of the United Way. In 1997 FOOD, Inc. became Community Food Bank, and we have continued to grow ever since.
Get Involved with Community Food Bank
The Central Valley SDA Food Distribution Center will be open from 3:00pm- 5:00pm every 3rd Saturday of the month.

The Adventist Development and Relief Agency (ADRA) was started by the Seventh-day Adventist Church as a way to follow Christ's example of serving and caring for those in need. Put simply, ADRA improves the lives of people around the world. The agency searches out deprivation, social injustice, and need—then works to eliminate them. ADRA invests in the potential of individuals through advocacy, supporting families, promoting health, providing food and water, establishing livelihoods, and responding to emergencies.


Adventist® Community Services (ACS) currently provides services such as disaster response, spiritual and emotional crisis care, community development, urban & inner-city ministries, elder care ministry, youth and young adults' empowered to serve, Hope for Humanity, tutoring and mentoring programs and much more.
ACS Adventist® Community Services has more than 1,250 localities and upholds the beliefs of theSeventh-day Adventist® World Church organization.